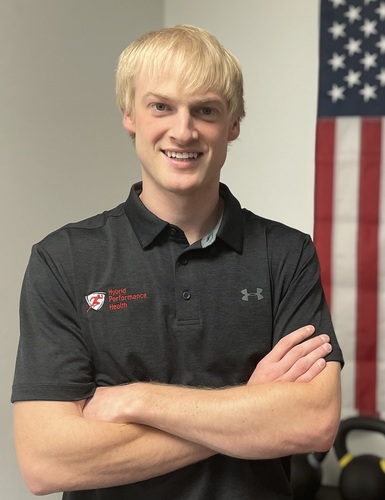 Dr. Gabe Rahn is originally from LeMars, Iowa. After high school, he attended the University of Nebraska where he received his Bachelor of Science Degree in Nutrition, Exercise, and Health Sciences. While attending UNL, he also played football for Nebraska as a walk-on wide receiver who earned a scholarship. After graduation, he then attended chiropractic college at Cleveland University-Kansas City and graduated as a Doctor of Chiropractic.
While attending chiropractic college, Dr. Rahn completed hundreds of hours of seminars including Motion Palpation Institute (MPI) courses, dry needling, Dynamic Neuromuscular Stabilization (DNS) courses, McKenzie method (MDT) courses, FAKTR taping and soft tissue courses, and therapeutic exercise/sports performance courses. All of these courses increased his ability to diagnose and treat many different conditions with conservative care. Dr. Rahn is licensed in the Selective Functional Movement Assessment (SFMA) and Functional Movement Screen (FMS). All of his education and training is simply to provide each of his patients the best, evidence-based treatment possible. Dr. Rahn is passionate about conservative care and is even more passionate about using his ability to help people. As a former high level athlete, treating active individuals of any age and empowering any person who wants to become more active with less pain is what gets him out of bed in the morning. Dr. Rahn is excited to serve his patients and the Bellevue/Papillion community in which he lives.
Dr. Gabe Rahn married his high school sweetheart, Emily, in 2017. They currently have one son named Grayson and a dog named Drake. Dr. Rahn enjoys being active with his family, reading, and watching the Huskers on fall Saturdays.